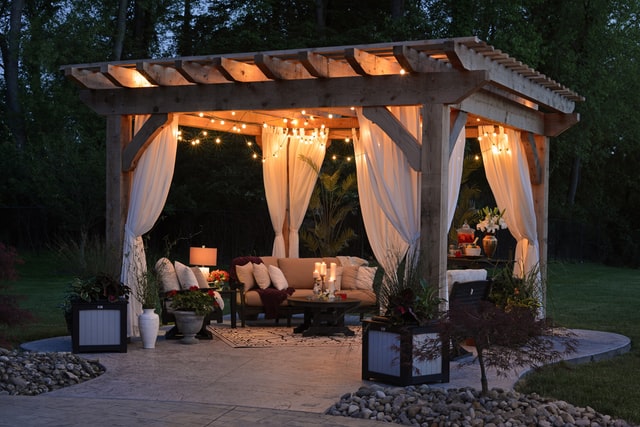 The New Status Symbol is an Upgraded Backyard.
May/07/2021 169
Here's how you can achieve the newest status symbol, an upgraded backyard.
The backyard has become the new family room, the place where families can spend time and homeowners can entertain. During the pandemic, people spent more time at home than ever before. Naturally, that means maximizing all your living space including the outdoors. "People want being outdoors to be as sophisticated as an indoor living room," according to Los Angeles designer Martyn Lawrence Bullard.
How do you achieve an upgraded backyard?
There are many ways to upgrade your backyard and some can increase your home's resale value. Here are some ideas.
1. Add a path.
You can create a pathway with stones, mulch, gravel or sand. You can use the path to mark certain areas of your yard like a garden, dining area or playground or create a streamlined path back to the house. You can pick the up the materials you need at your local home improvement store, but if you need to excavate or clear the path, you might want to consult a professional landscaper. They can also install lighting along the path.
2. Add a firepit.
A fire pit is a nice feature to a backyard. It's a place where you can gather, warm up and enjoy the magical flames. There are many firepit styles to choose from. It's cheaper to purchase a firepit than it is to have a custom one made. A custom one would also require a gas line which can be expensive to install.
3. Add a water feature.
There are many ways to add water to your backyard that isn't a pool. Pools are great, but they are expensive to install and maintain. You can add a small pond, fountain or mini waterfall to add tranquility to your space. Relax to the sound of flowing water. In addition to in-ground pools, above ground pools are available and are typically cheaper.
4. Add a deck.
A deck is a great way to create an outdoor living area. Decks can be expensive, but they can significantly increase your outdoor enjoyment. You can barbeque on your deck or sit back and enjoy the view. A professional can help you with deck construction.
5. Install Pavers
Instead of pouring concrete, consider pavers. Concrete pavers are moderately priced and come in a wide range of styles and materials. Also, if you have an issue with a paver, you can flip it over or just replace that one.
Update your backyard to increase your enjoyment and your home value. A home contractor can help. Use HomeContractors101.com to request quotes from professional contractors in your area today.