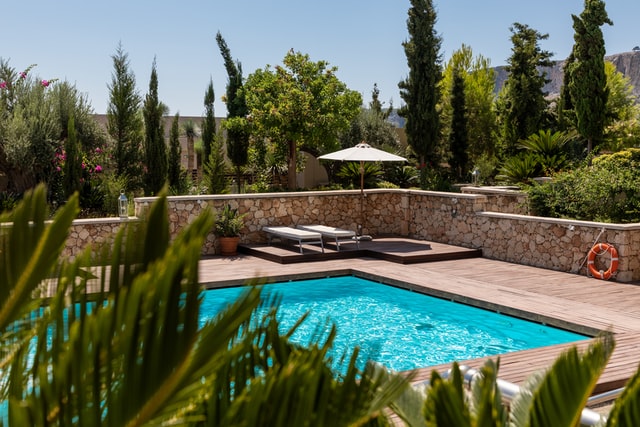 Should I Install an above ground pool or an in-ground pool?
Sep/09/2021 1501
Which is better – an in-ground pool or above ground pool?
In the heat of the summer, when you're looking for relief, a pool of any kind sounds good. There are benefits to both types of pool, and of course a major cost difference. Here are some of the things to consider when evaluating pool options.
Access
Before you get excited about putting in a pool, measure for access. To put in a pool, you will need to have enough access to your backyard for a bobcat and excavation tools to get through. Otherwise, you may still have an in-ground pool, but will need to find a pool contractor willing to hand dig. This will also increase the cost of your in-ground pool significantly, as the cost of labor will go up. Connect with a local pool contractor to understand how much access is required.
Budget
The average price of an in-ground fiberglass 12-foot by 24-foot pool is $31,500 according to Fixr.com. However, we estimate that cost varies greatly depending on where you live. In California, the cost of a standard size pool is closer to $60,000. The more features you add to an in-ground pool the more expensive it becomes. If you want a sloped entry, diving board, lighting or other amenities, be prepared to pay more.
Do-it-Yourself
If you are handy, you can cut a lot of costs by installing your own above ground pool. That is most likely not an option if you choose an in-ground pool. However, there are benefits to using a professional contractor to install your above ground pool including a warranty and their experience handling the materials.
Lifespan
An above ground pool typically only lasts 10 to 15 years, while an inground pool can last 50 years or more. If you are looking for a short-term commitment, an above ground pool is less permanent, and something you can change your mind about. While an in-ground pool would be costly to remove.
Are you looking to install a pool in your home? HomeContractors101.com can help. Visit our site and submit your home improvement project to find local contractors in your area.