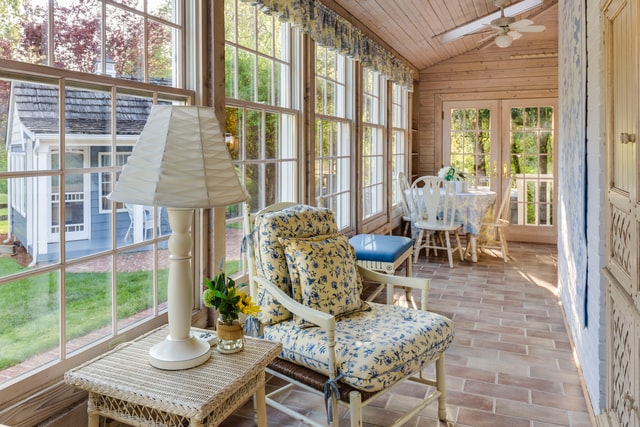 10 Benefits of Adding a Sunroom to Your Home
Jun/18/2021 653
What are the benefits of adding a sunroom?
Sunrooms are a great addition to any home with the space to expand. If you are feeling like your home could use some more space, a sunroom is a great way to expand at a lower cost. If you are contemplating different home improvements or want to learn more about sunroom additions, read on.
Benefits of Adding a Sunroom to Your Home
1. Increase the resale value of your home
Sunrooms add value to your home by adding square footage. In general, the larger the house the more it can command on the market. To determine if a sunroom will add the value you are looking for, you can conduct a cost/benefit analysis. You can look up how much homes in your area have sold for recently with the amount of square footage you will be adding compared to how much smaller homes sold for. Speak to a real estate agent to understand what a sunroom would equate to in added resale value. Next, get quotes from sunroom contractors to compare the cost to the added value.
2. Reduce time to sell.
As a home seller, it benefits you to sell quickly. The longer your home is on the market, the harder it can be to sell at the price you want. In addition, many homeowners want to sell quickly, so that they can obtain the money they need to purchase a new home, move or renovate. Adding a sunroom can take less time than a full room addition. The additional space can make it easier for you to find a buyer as well.
3. Add more light to your home.
Another thing home buyers look for when seeing potential homes is natural light. If your current living space is dark, a sunroom would bring in more natural light. It would also bring in more warmth and create a cozy space for you to enjoy.
4. Reduce your electricity bill.
A sunroom can reduce your electricity bill by letting more natural light in. You won't need to turn your lights on to see or read. The more time you spend in the sunroom, the less you will need to turn on the lights. If you are feeling chilly, bask under the sun instead of turning on the heat. You can open the windows in your sunroom to enjoy the natural breeze to cool off instead of turning on the air conditioning.
5. Gain more storage space.
If you have too much furniture for your existing space, you can declutter by placing it in the sunroom. If your home has limited storage space or small closets, a sunroom can also provide more storage space. You can purchase shelves or build in storage.
6. Gain more personal space.
A sunroom can provide more room for you and your family to enjoy and spread out. Each person can have some personal space when they need it. You can turn your sunroom into your kids play area where you keep their toys, games and activities. This keeps those items from being scattered among the other rooms of your home.
7. Make it your hobby room.
A sunroom can make for a great hobby room. If you love to paint, you can get great natural light with a sunroom. Whether you write for a living or just enjoy it, a sunroom can be a great writing room as well. A place where you can be alone and get creative.
8. Get exercise.
There are many health benefits to exercise, but exercising in your home can be challenging. You might not want to disturb others or you may not have the space for the large equipment. A sunroom can make for a great at-home gym where you can exercise and boost your health.
9. You can entertain.
If your living space is limited it can be difficult to entertain guests. A sunroom is a great place to entertain guests or throw small gatherings. You can host a simple dinner party or even a baby shower for a good friend.
10. Turn it into a home office.
It can be hard to focus in your home. Some how the kids, your spouse or pets always find you. A sunroom is the perfect place for a home office, a secluded area of the home where you can focus away from the family.
A sunroom can be a great addition to any home for many reasons. At HomeContractors101.com we can connect you with a sunroom contractor near you. Simply complete the project request form and we'll match you with contractors, so that you can compare and secure the best quote. Submit your home improvement project today for pricing.